Managed Dedicated Server Features
A managed dedicated server gives you the maximum power, flexibility and security for your hosting.
Traditionally however, (as the saying goes) "..with great power comes with great responsibility". Whilst your developers will love having root access to the hardware, keeping the machine up to date and secure is often outwith their remit, skillset or scope.
Fully managed, patched and up to date servers
A Managed server with IFDNRG comes with full support and 24/7 monitoring.
We'll keep all the base operating software and the installed service software up to date and patched daily. Any non trivial updates, we will let you know in advance to arrange an out of hrs slot.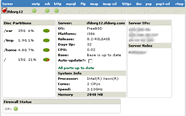 Hosting for designers and design agencies
We specialise in providing managed boxes for high end agencies, who want to know that all the effort they put into building their client sites, get matched by the hosting solution.
Specifications obviously continually change, so please call us for latest availability. Typically we'll have a range of servers ready to go.
Alternatively, Choose from our standard server options or configure your dedicated server to any specification required.